FKF Electoral Board unveiled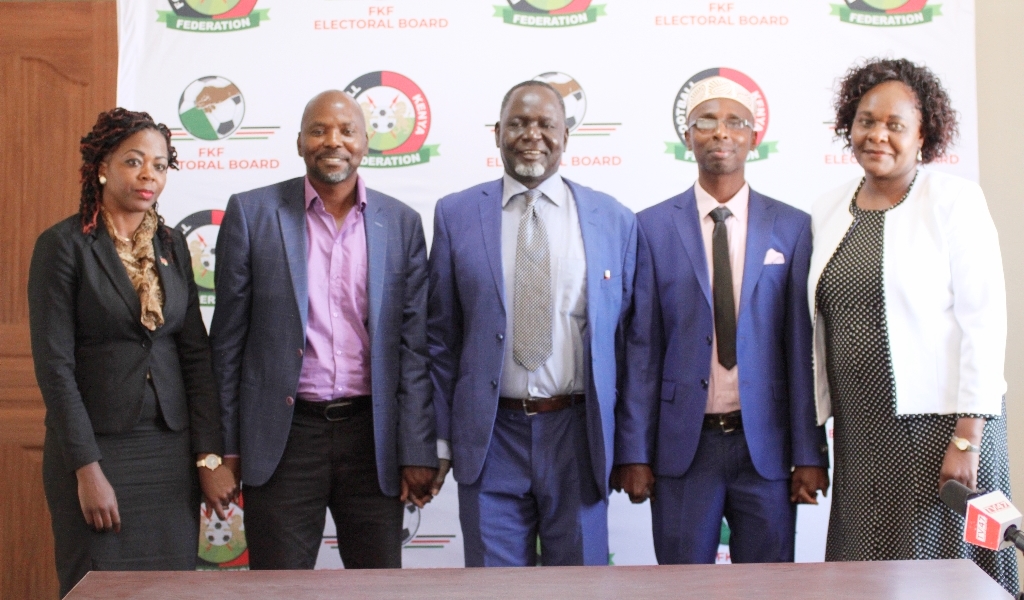 The Football Kenya Federation electoral board at FKF house, (L- R) Eunice Lumallas, Robert Nyakundi, Prof. Edwin Wamukoya, Abdi Said and Elynah Shiveka/ FKF Media
NAIROBI 8, OCTOBER,2019 The Football Kenya Federation (FKF) elections are set to be held on Saturday, December 7, 2019 after the whistle was blown today Tuesday, October 8, 2019 with the unveiling of the FKF Electoral Board and the official schedule.
Unveiling the Five member board at the FKF house, FKF Ag. CEO Barry Otieno said that the board will be in office for four years following its ratification and adoption at the 2019 FKF Annual General Meeting that was held last Saturday.
The board has been constituted by the National Executive Committee as provided for in Article 39 Clause 1p of the FKF Constitution, the board will be in office for four years effective October 8, 2019. These members were appointed based of their understanding of the sport of football and their demonstration of integrity and professionalism," Otieno said.
"We are confident that the board members will uphold election integrity and do their job appropriately," he added.
Prof Edwin Wamukoya who was appointed chairman to the board noted that the board will oversee the National Elections and County Elections, and may also appoint an individual or institution to oversee sub-county elections.
The Wamukoya-led team has Eunice Lumallas who will be the secretary and members Abdi Said, Robert Nyakundi and veteran journalist and sports administrator Elynah Shiveka.
The board hits the ground running with the nomination period starting on the vetting of candidates on Monday 14th October after which a preliminary list of candidates is expected to be published on October 22, 2019.
Vetting of National Executive Committee member candidates and the presidential candidates is expected to be held on 22nd October as well and a disputes resolution period will be open.
County elections will be held on 23rd November before the national polls scheduled to take place on 7th December.
---
---